Will a steamer kill fleas? Yes, however, using a steamer to eliminate fleas will not kill all of them, but it can be a very effective part of your treatment plan.
According to the textbook "Flea Biology and Control: The Biology of the Cat Flea Control," fleas must be exposed to temperatures above 140°F for over 10 minutes to kill them. A flea's hardiness is why you must think about multiple ways of killing them when dealing with an infestation.
The good thing about using a steamer is that it will also kill many other bugs, not just fleas. So if you have other types of bed worms but are not sure what they are, use a steamer as the first plan of attack.
Here Are Some Things You Need to Know About Using a Steamer to Kill Fleas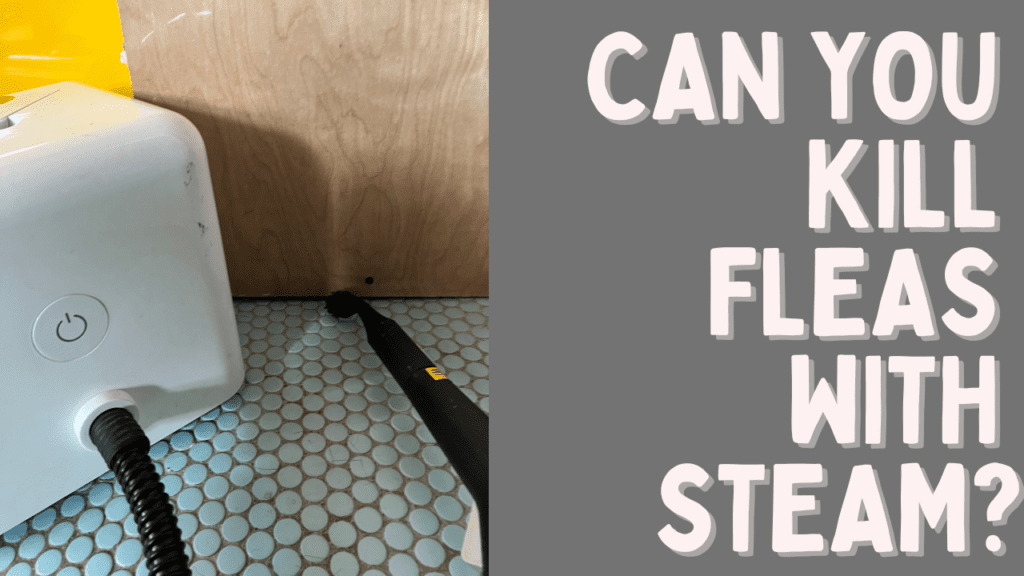 Fleas are small, agile insects that are excellent jumpers. They can leap vertically up to 8 inches. Their extreme jumping capability makes them challenging to catch and kill but allows them to spread quickly throughout your home.
Furthermore, the larvae, eggs, and pupae are also very good at hiding in cracks and crevices, making it hard to reach them with just one treatment method. With fleas, you'll need to implement vacuuming for fleas, steaming, continuously washing pet beds, treating the animals, treating the inside home, and treating outdoors with Wondercide. When trying to get rid of fleas, you'll need an integrated plan of attack.
A steamer machine uses hot water that gets to a boil and produces steam from a hose. When you use a steamer like the Dupray NEAT steamer, you can use specific attachments to target certain areas of your floors, moldings, and rugs.
What's The Best Steam Cleaner for Fleas?
The Dupray Neat Steamer will Kill Fleas + All Life Stages.
The Dupray Neat Steamer is not only an excellent steamer for bed bugs, but it will also kill fleas quickly. The NEAT steamer uses pressurized hot steam to reach deep into carpets and furniture to kill fleas on contact.
So will a steamer kill fleas? Yes, it will kill some fleas in the environment, but you'll need to treat your pets as well.
Sale
High temperatures will also help break the life cycle of fleas by killing eggs and flea larvae hiding in cracks and crevices. Steaming cracks and crevices will help to prevent future infestations.
To use the NEAT steamer, fill the tank with water, wait for the indicator light to turn green, and start steaming your carpets, furniture, or floors. For best results, move the steamer slowly and steadily over the surface to allow the steam to penetrate deep into the fabrics.
Pros of this Steamer for Fleas
Since it has a long hose, this steamer will kill fleas in hard-to-reach areas.
Good Pressure at 50 PSI!
The plain square design is a user-friendly design. (I love it!)
The 275° F steaming temperature is much higher than what you need to kill fleas.
It gives fifty solid minutes of steam time per tank.
It has a large tank, which means more steam time without letting it warm up in the middle of killing flea eggs, larvae, and pupae.
I love the nice storage area for the hose underneath the machine.
It has a rectangular floor tool which is excellent for steam-cleaning hardwood floors.
Lifetime warranty on the boiler.
You get a TON of attachments, so not only can you kill fleas with it, but you can also disinfect your entire house!
It's very quiet compared to other steamers for fleas.
I frequently use the lock button on the steamer nozzle. So you don't have to hold your finger on the trigger button continuously.
Lastly, I know this might sound crazy, but this steamer is fun.
Cons About this Steamer for Fleas
You can't adjust the pressure.
It doesn't have a gauge to tell you when the water tank is running low.
You can't store the steamer accessories on the machine. (I use a plastic bin to keep all of the accessories in)
The steam may not reach deep enough to kill the pupae and eggs if you are steaming carpets. However, it will help to dislodge them so you can vacuum.
Best Carpet Cleaner That Kills Fleas
Bissell ProHeat Pet Pro Full-Size Carpet Cleaner
Sale
Bissell ProHeat 2X Revolution Max Clean Pet Pro Full-Size Carpet Cleaner, 1986, with Antibacterial Formula and Bonus 3" Tough Stain Tool
Every Purchase Saves Pets. BISSELL proudly supports BISSELL Pet Foundation and its mission to help save homeless pets..Amperage : 6.8 amps
Engineered to be our best and most powerful carpet cleaning system for the toughest pet stains and odors even removes skunk odor
MAX Clean Mode. Packing in 12 rows of rotating Dual DirtLifter PowerBrushes, it delivers professional grade cleaning to remove deep down embedded stains, dirt and odors.
Express Clean Mode. Delivers dry carpets in about 30 minutes.
Attack the Toughest Stains. Activate the CleanShot pretreater to deliver a concentrated stream of cleaning solution right where you need it.
Bissell's ProHeat Pet Pro is a full-size carpet cleaner that can be a part of your integrated flea treatment plan. The Dirtlifter power brush will help dislodge flea larvae and pupae from deep within the carpet.
Furthermore, Bissell's MaxClean Mode will help remove stubborn stains and pet messes. Bissell's ProHeat Pet Pro is a powerful machine that can help eliminate fleas in your home.
One of our clients was infested with fleas, she hired us for a bed bug inspection, but we could determine over the phone that her issue was fleas. She sent us many photos of flea larvae and began vacuuming, decluttering, and using this Bissell ProHeat to eliminate the fleas. Then she hired a pest control company to treat her home. It took a few months, but she finally eradicated the fleas.
The steamers also come in handy to sanitize your home after you eradicate a flea infestation. Fleas leave behind "flea dirt," and you'll want to vacuum and steam the entire house, so you are not stepping on their feces.
Steam Will Not Be Your Only Solution for Fleas
To successfully kill fleas in your home, you'll need to think outside the box. You must attack and kill the fleas at all their life stages. According to Healthline, vacuuming, steaming, treating your pet, and washing fabrics will all be part of your flea treatment plan.
You'll need to vacuum daily, steam every few days, and wash all bedding, curtains, and other fabrics that could be harboring fleas, their eggs, their larvae, or pupae.
Treating your pet is also crucial in the fight against fleas. You'll need to consult your veterinarian to determine your pet's best course of action.
There are many options for treating fleas on pets, including oral medication, spot-on treatments, shampoos, and collars. Your veterinarian can help you determine which course of action is best for your pet.
Final Thoughts for Will A Steamer Kill Fleas? + What's the Best One?
Yes, a steamer can kill fleas. However, it's important to remember that using a steamer to eliminate fleas will not kill all of them. But if you use a steamer as part of your flea-elimination efforts, you can rest assured knowing that you're doing everything possible to get rid of those pesky critters for good! This is why it's crucial to have a comprehensive treatment plan that includes other methods like vacuuming regularly, laundering bedding and clothing in hot water, and treating your pets with an appropriate insecticide.
Related Articles on Fleas and Other Biting Bugs:
---
Check out our list of "tiny bugs in the bed that are not bed bugs". If you are not sure what you have.
Springtails vs fleas: what are the differences?!
---