What's the best vacuum for fleas? Vacuuming fleas when you have a significant flea issue is one way to decrease the number of them in the home before treatment starts. We will help you determine if you should buy a different vacuum cleaner for a flea infestation or use one you already have.
The first step when dealing with a flea issue is to vacuum. Vacuuming is an integral part of flea control because you are helping to interrupt the flea lifecycle. Vacuuming fleas helps decrease the number of flea larvae and eggs in the home and provides an actionable way to get rid of some life stages quickly.
Furthermore, with a vacuum, you can eliminate fleas in your bed. With over 15 species of fleas that can travel on dogs and cats, it's essential to have a good vacuum when you have pets.
Is a Vacuum Cleaner Useful for Fleas?
For many people, fleas are a nightmare to get rid of and control once they set up shop in your home. These parasitic insects can rapidly become a significant problem in the house due to their lifecycle that can withstand harsh conditions.
You'll need to use a steamer for fleas, treat the animals, implement constant vacuuming, treat the home, and wash fabrics.
Furthermore, they feed on pet blood, human blood, and wild animals, making them even harder to eradicate. Fortunately, vacuum cleaners are an effective tool for getting rid of fleas.
Since the flea eggs are so small, you'll need to use a good vacuum and a high-heat dryer to control the infestation. A vacuum's suction power can help remove flea eggs, pupae, and larvae from floors.
Plus, the HEPA filter can trap the bugs inside the canister. Vacuuming with a crevice tool is also imperative for removing other problematic bugs in your bed, like bed worms.
However, it's important to remember that flea larvae hide in cracks and crevices away from the light. So a comprehensive treatment plan and a high-powered best suction vacuum are crucial in eliminating fleas.
But if you're searching for a way to eliminate fleas now, vacuuming is a good option. Moreover, some vacuum cleaners for fleas are better than others.
The Best Vacuum for Fleas – Best Flea Vacuum Cleaner
When it comes down to it, you can use any vacuum for a flea infestation. However, if you want to buy a new vacuum that's powerful enough to handle the job of flea removal, then any vacuum on our list will help! It's all about personal preference.
Some people are Dyson diehards, and others prefer a bagged option. Whatever your preference is, one of these "best vacuums for fleas" will help!
Cordless Dyson is the Best Bagless Vacuum for a Flea Infestation
A Dyson Cyclone V10 Animal Lightweight Cordless Stick Vacuum Cleaner is your best bet when dealing with a flea problem. Its powerful suction will remove adult fleas, larvae, pupas, and eggs from your bed, hardwood floors, couches, and carpets.
The most important thing when vacuuming a pest issue is suction. You want a vacuum with powerful suction to remove the critters from the environment. If you don't want the full Dyson upright (that we list below), this small Dyson is your next best bet.
The best feature about a Dyson is its filtration and cyclone technology. Both of these paired together to make it a powerful weapon against fleas.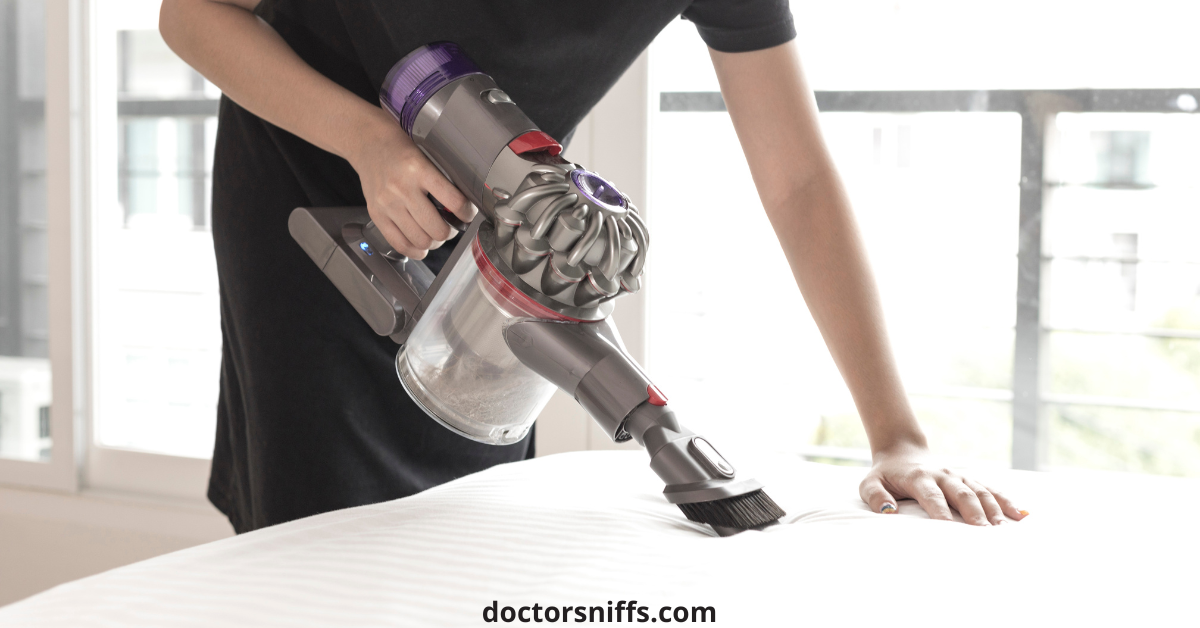 Manufacturer Specs
Bagless canister vacuum for fleas
Cordless
Extreme suction with a HEPA filter
What We Like
The vacuum will remain potent for the entirety of the battery charge.
Animal hair won't get tangled up in the brush.
Its suction is powerful enough to remove fleas and their stages from your home.
What We Don't Like
The battery charge only lasts about 1/2 an hour.
If you are vacuuming fleas, you'll need to dump the canister after each use.
Best Dyson for Fleas Upright Vacuum Cleaner, Ball Animal 2
Choosing a vacuum with powerful suction is crucial if you have a flea infestation. The Dyson Ball Animal 2 is an excellent option because it features a cleaner head that raises and lowers in response to the environment.
It creates a powerful function plus filtration – cyclone technology that works together to provide strong suction. Strong suction will help remove the fleas from your environment and eliminate the infestation at a faster pace.
It would be best if you emptied the canister outside to prevent any life cycle stages from continuing in your home. Be sure not to forget under couch cushions, chairs, baseboards, and wherever your furry friends may have been.
A few passes each day with a Dyson should do wonders for your flea problem!
Manufacturer Specs
Bagless canister vacuum for fleas
Self-adjusting cleaner head
Extreme suction with a HEPA filter
What We Like
The bin empties from the bottom, which means less dust on your face.
Animal hair won't get tangled up in the tangle-free turbine tool.
A Dyson's suction is powerful enough to remove fleas and their stages from your home.
Comes with a 5-year warranty.
What We Don't Like
The vacuum may be hard to push overtime on a very shaggy and long carpet. (due to the self-adjusting feature)
If you are vacuuming fleas, you'll need to dump the canister after each use.
Kenmore is the Best Bagged Vacuum for a Flea Infestation
Do you want a vacuum cleaner to help you eliminate fleas? It's hard to beat the Kenmore Vacuum Cleaner regarding flea control. Fleas will be kept inside the bag with excellent suction; accessories for cracks and crevices are essential when dealing with a flea problem.
Are you unsure whether you have a flea vs. a bed bug issue? No worries, the vacuuming with this Kenmore will help eliminate all kinds of pests.
In addition to removing pet hair, the Powermate attachment can dislodge flea eggs from deep in the carpet. Flea larvae hang out within pet hairs on the floor, so having a powerful extension that will remove as much pet hair from the environment as possible is critical. You can rest assured that fleas won't stand a chance with this vacuum cleaner.
Manufacturer Specs
Bagged canister vacuum
A triple HEPA filter is essential for flea issues
2 Motar system provides excellent suction for fleas
What We Like
It has enough power to vacuum up fleas' life stages.
The bag holds a lot of dirt which is essential when using it for fleas.
You can buy knock-off Kenmore replacement bags that are less expensive but compatible.
You easily throw out the entire pack after vacuuming a flea infestation.
What We Don't Like
The vacuum is heavy for some folks (like my mom).
Flea infestations require you to remove the vacuum bag every time. The bag replacements cost extra money, especially when vacuuming for fleas.
Atrix Bug (Flea) Sucker HEPA Backpack Pest Vacuum Ergo Pro Backpack (Premium Bundle)
Atrix Bug Sucker HEPA Backpack Vacuum brings the big guns. Pest control technicians across the country choose this powerful vacuum over any other. Would you like to know how pros get rid of fleas effectively?
The "premium bundle" is worth it for pest issues because it has ten additional filters + a dedicated floor brush. These vacuum cleaner add-ons make it more cost-efficient to get the add-on bundle because when vacuuming for fleas, you will have to change the filters often.
The Atrix bug sucker is excellent at flea removal and does a superb job thanks to its ultra-strong suction and four tiers of filtration. When trying to trap fleas, a HEPA filter bag is significant, and you can wash it in high heat to kill any remaining larvae or eggs.
For optimal results, use the vacuum with all four filters in place – you'll be happy you did when your flea problem is finally under control! Multiple filters are essential when dealing with a flea issue.
After each use, close the vacuum cleaner in a bag or an air-tight bin while handling the flea issue.
Manufacturer Specs
Its weight is 10.3 lbs, with a belt for extra storage.
Bagged canister vacuum
4-levels HEPA filtration
What We Like
The tiny size allows you to bring it into out-of-reach areas.
The strong suction will enable you to vacuum up fleas.
You can easily remove the bag and wash it in hot water.
What We Don't Like
You will need to buy replacement bags.
Best Flea Vacuum Atrix Lil Red Canister Vacuum
The ATRIX Lil Red Canister Vacuum is an excellent tool for getting rid of the life stages of fleas. With its powerful suction and three layers of HEPA filtration, this ATRIX vacuum for fleas can quickly and easily vacuum up bugs without them getting caught inside the hose.
With the ATRIX Lil Red Canister flea vacuum, you will be one step closer to being flea-free! Furthermore, its cost-efficient price means you won't have to take out a loan to eliminate your flea problem. However, please buy extra filters, as you want to change frequently.
Manufacturer Specs
Weighs 6 lbs
Bagged canister vacuum
3-level HEPA filtration
What We Like
It's cheap enough to dedicate to vacuuming up flea larvae, eggs, pupas, and adults. You can easily fit the entire vacuum into a bug heater like the Thermal Strike to kill any fleas that might be alive inside the machine.
The tiny size allows you to bring it into tight areas where flea larvae might hide.
The multitude of crevice tools will allow you to vacuum fleas deep inside cracks and crevices.
At 6 lbs or less, it's light enough to carry.
The bags don't hold a lot, which is a plus when managing fleas since you want to change them out frequently.
It's small enough to fit into a bag or air-tight bin, so you don't risk fleas jumping out of the vacuum hose when it's not in use.
What We Don't Like
The handle is relatively stiff compared with other models.
The suction is not strong like some of the other vacuums for fleas on this list.
You will need to buy replacement bags often.
The attachments on this vacuum for fleas are not high quality, so you'll expect to replace them over time.
This vacuum cleaner for fleas has a loud motor.
Best Miele Canister Vacuum Cleaner for Fleas
Some people might not want to buy this because of how expensive it is. Although, if you already have a Miele vacuum, you can quickly put it to work for a flea issue.
When you are ready to buy more Miele bags, use the FJM replacement bags with the red collar. Furthermore, if you want a vacuum that will take care of a flea issue and efficiently clean your home, then the Miele is it!
Manufacturer Specs
It has a powerful 1,200-W Miele-Made Vortex Motor, excellent for sucking up flea pupae and eggs.
Multiple layers of filtration which is imperative when dealing with fleas.
Its a bagged canister vacuum
What We Like
The motor is super quiet.
It has a filter on the exhaust fan, so flea dirt does not leave the canister.
The certified Miele replacement bags will lock in the flea dirt and dust. With the self-sealing collar, once you vacuum fleas into the bag, they will stay there.
The vacuum wand fits under all kinds of furniture, making it helpful for vacuuming up fleas without moving the furniture.
What We Don't Like
It doesn't come with a HEPA filter. However, you can purchase one separately.
It's a more expensive vacuum for fleas than other brands on our list.
Best Cordless Vacuum Cleaner for Fleas: Atrix Ergo Pro Cordless Backpack Vacuum
If you are searching for one of the vacuum cleaners for fleas that professional pest management professionals use, get this cordless Atrix. The Atrix Ergo Pro Cordless Backpack Pest Vacuum can suck up those fleas, roaches, bed bugs, and other tiny bugs in beds.
This little powerhouse of a vacuum is cordless, so you can easily vacuum up fleas without stressing about finding an outlet. Plus, with a charging time of four hours and a use time of 60 minutes, you can keep vacuuming for a reasonable time.
A 99.97% efficiency rate at .3 microns, along with the Atrix ULPA filters, is 99.999% efficacy at not letting fleas through the .12 microns; it will allow you to immediately remove and contain flea larvae, eggs, and pupae too.
There's a reason that pest management professionals/exterminators swear by this powerful vacuum cleaner for fleas.
Manufacturer Specs
Cordless; 26-volt battery
Bagged canister flea vacuum
4-level HEPA filtration traps flea dirt
Vapamore MR – 500 Vento Canister Vacuum
Vapamore is known for making high-quality, top-of-the-line vacuum cleaners designed to make your life easier. The Vapamore MR – 500 Vento is no exception. They create this canister vacuum precisely to make vacuuming fleas a breeze.
Whether you have carpet or hardwood floors, this vacuum cleaner can handle it all. The powerful suction and complete lifetime warranty make it a wise investment for anyone who struggles with flea infestations. In addition, the Vapamore MR – 500 Vento comes with various attachments that make it perfect for cleaning any room in your house.
So if you're looking for a top-of-the-line vacuum that will make your life easier, look no further than the Vapamore MR – 500 Vento.
It also comes with six extra HEPA bags for frequent changing if you are vacuuming because of a flea issue.
Plus, the small crevice tools make it easy to vacuum in tight spots like bed frames – perfect for those awful fleas!
What We Like
Come with a lifetime warranty
The Vapamore has six replacement HEPA filters.
The machine works great for those suffering from dust mite allergies, carpet beetle allergies, bed bugs, and fleas.
What We Don't Like
It's bulky to maneuver around.
When you vacuum for fleas under things, sometimes the head lifts off the ground. So it would help if you maneuvered your arm closer to the bottom to restrict it from rising.
Cheap Vacuum Cleaner for Fleas: ORECK COMMERCIAL XL Pro 5 Super Compact Canister Bagged Vacuum
A small canister vacuum is one method for cost-effective way to battle fleas. Look no further than the ORECK COMMERCIAL XL Pro flea vacuum cleaner. This little powerhouse weighs less than 5.5 lbs and comes with two filters to help trap fleas, bed bugs, dust mites, and other allergens.
Furthermore, since it's such a lightweight, versatile vacuum, you can easily carry it around.
In addition, it's small enough to seal it in an air-tight bin, or a bag or heat treat it in a Thermal Strike portable heat machine between vacuuming sessions.
Manufacturer Specs
Bagged canister vacuum
Weighs less than 5.5 lbs
It comes with crack and crevice attachments
What We Like
The lightweight, small size.
It has an air filter on the exhaust.
What We Don't Like
The bags fill up quickly.
The hose is a bit short, which can be a problem if you must reach far away.
When the bag gets full, it creates a high-pitched sound.
What are the Different Types of Best Flea and Pest Vacuums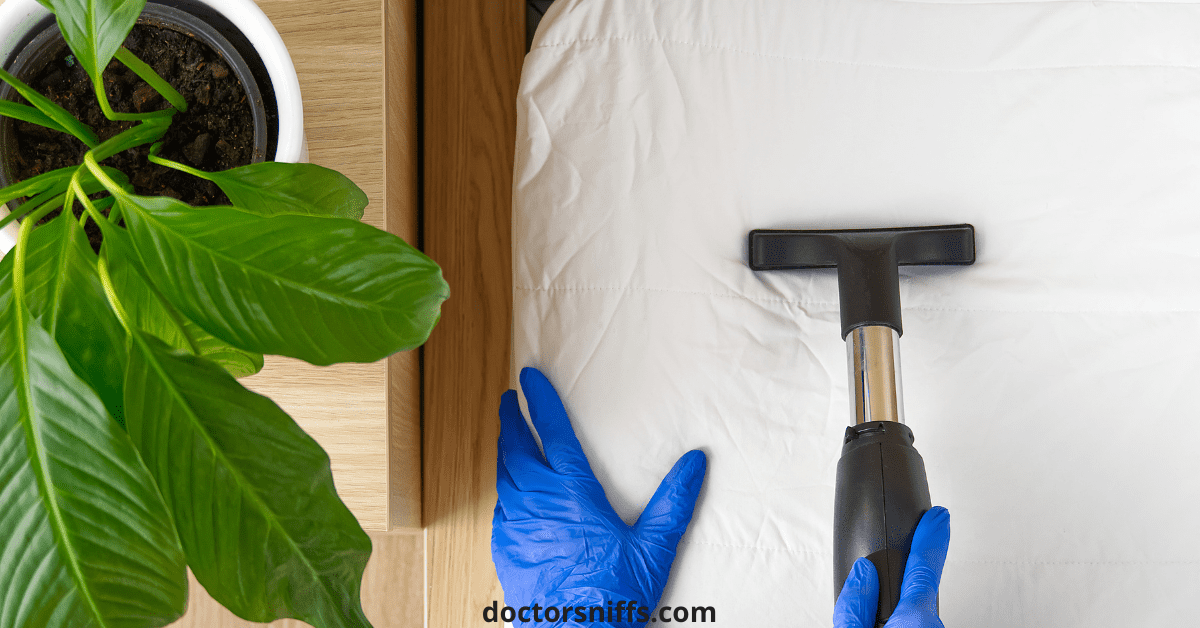 Bagged Canister Vacuum
A bagged canister vacuum is ideal for removing fleas or other pests. The vacuum comes with a disposable bag that captures the parasites and their eggs—ensuring that they can't escape and re-infest other areas of your home.
Additionally, a canister design ensures that the vacuum's strong suction will remove all visible adult fleas, larvae, pupae, and eggs from your mattress, rugs, bed frame, hardwood floors, furniture, and pet beds.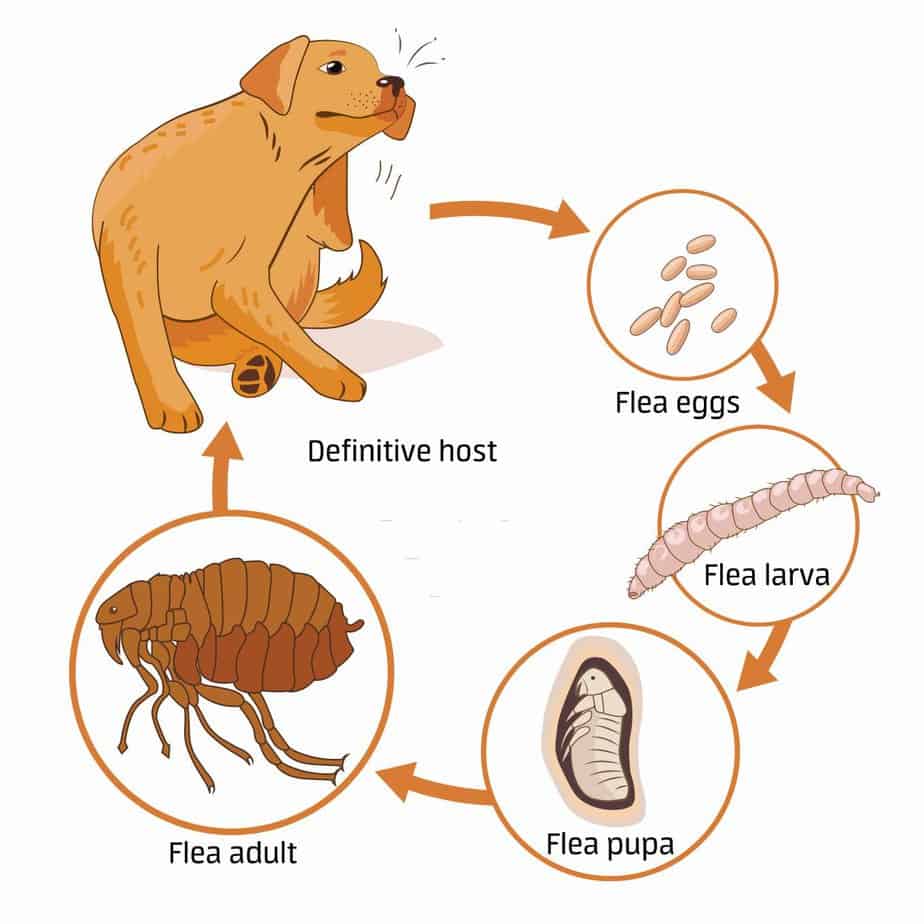 Bagged Canister Backpack Vacuum with a Cord
The top vacuum for fleas is the pest pros canister backpack vacuum. This vacuum is perfect for pest pros because it has great power. Plus, the bag ensures that no fleas, larvae, or eggs escape. Furthermore, it's also backpack-style, so it's easy to carry around.
Bagged Canister Backpack Vacuum: Cordless
The bagged canister backpack vacuum is the perfect choice for pest technicians who need a lot of power and prefer not to have their hands covered with dirt all day. It's also easy to carry around, making it great if you're working on different locations simultaneously!
However, this vacuum for fleas is the best because it's cordless. In addition, the battery doesn't last very long, but the cordless design makes it easy to store and put away when not in use.
Remember, the positives outweigh the negatives; this is the best vacuum for removing fleas.
Bagless Vacuum for Fleas
A bagless vacuum will collect dirt, dust, fleas, or anything else within a chamber. The essential thing to remember is that you must dump this container and clean it out every time you vacuum for fleas.
After you dump and rinse it, place it into a bag or an air-tight bin.
6 Benefits of Using the Best Vacuum Cleaner for Fleas
– Vacuum cleaners reduce the number of flea life stages in the environment.
– A vacuum cleaner with powerful suction can suck up plenty of bugs, larvae, and eggs from floors, mattresses, furniture, carpets, etc.
– Furthermore, you can get rid of fleas on surfaces where it's not practical to use chemical treatments. (fleas become resistant to chemicals)
– You can eliminate fleas that have developed a resistance to insecticides. Insecticide-resistant fleas are a growing problem in the battle against flea control.
– Vacuuming is integral to a well-thought-out pest management plan against fleas. As a bonus, it will also rid your home of other pests like bed bugs and carpet beetles.
– Since flea larvae get deep between the fibers of a rug, vacuuming will help loosen up the fibers so your flea treatment will have a better chance of working. It's important to vacuum before applying any flea treatment to the environment.
What to Focus on When Choosing the Best Vacuum Cleaner for Fleas
Bag or No Bag
One crucial factor in planning a flea treatment is whether you want a bagged or bagless model. A bagged vacuum cleaner is more powerful, making them better at picking up fleas, flea dirt, eggs, larvae, pupa, dust mites, and allergens.
However, a bagged vacuum cleaner will be more costly in the long run since you'll need to keep replacing the bags. Especially with a flea issue, you will need to replace the bag and filter every time you use it.
A bagless vacuum is more environmentally friendly since you can empty the dustbin when it's complete. However, the fleas may accidentally jump out of the chamber. Plus, they can sometimes release flea dirt and other dust into the environment when you empty the collection container.
You will need to spend more time washing and cleaning out the internal areas of the dustbin and hose. However, you need to know what type will work best in your home and wallet before making such an investment!
Cordless or Cord
Both have positives and negatives, so it's imperative to consider your needs before deciding. One of the main advantages of a cordless vacuum is that they're very convenient to use, especially for flea jobs.
You can take them anywhere without worrying about where to plug them in. They're also usually lighter than corded models. On the downside, cordless vacuums have limited battery life and are not as powerful as their corded counterparts.
Corded vacuums are an excellent option for those who want to keep their cleaner on hand and use it as needed. They typically offer more power than cordless models, so you'll never have an issue running out of juice in the middle of a flea job! And since you can purchase these appliances at lower prices than many lighter-weight counterparts, they make perfect financial sense too.
So, which type of vacuum cleaner for fleas is right for you? A cordless vacuum may be great if you want something lightweight. However, a vacuum with a cord may be the way to go if you want something that powerful but won't break the bank.
Upright or Canister
Remember a few things when choosing between an upright and a canister vacuum. Upright vacuums tend to be bagless, making it harder to contain the fleas, their eggs, larvae, and pupae.
On the other hand, canister vacuums may be better at keeping the fleas inside the bag, often making it easier to vacuum up fleas for good.
Can I Vacuum My Dog For Fleas?
No, this is not a suitable method for getting rid of fleas on your dog. The best way to get rid of and identify fleas on an animal is to use a flea comb coupled with a flea treatment plan provided by your veterinarian. Treating the animal for fleas will kill any fleas that bite the dog.
Then you'll need to use a high-powered vacuum to scoop up any eggs and larvae that fall off the dog. Getting rid of fleas takes a well-thought-out plan.
Can You Use a Bagless Vacuum for Fleas?
Many people think you need a dedicated vacuum to eliminate fleas, but that's not true. Following our guidelines, you can use any vacuum to remove fleas.
First, you'll want to ensure that the pest vacuum has a strong suction to pick up the bugs. Second, you'll need to rinse and empty the vacuum after each use to prevent the fleas from jumping back out.
And finally, you'll want to close off the entire vacuum in an air-tight bin or bag. Doing this will ensure that bugs can't escape. So yes, you can use a bagless vacuum for fleas – follow these simple guidelines.
How to Use a Bagless Vacuum for Fleas
Vacuuming fleas with a bagless vacuum takes extra thought and attention to detail. You don't want to risk spreading fleas around your home, so taking some extra precautions is essential.
First, check if the vacuum you're using has a HEPA filter. Using a HEPA will decrease the chances that fleas escape.
Second, during your flea treatment stage, close the vacuum in a plastic bag or bin *see the other options below* after each use. Doing this will prevent any fleas in the vacuum from jumping out.
Another option is to seal off the entire vacuum into an air-tight bin. But if you don't seal your bag or container properly, there's always a chance that one will escape when taking out the vacuum cleaner from its sealed environment!
Third, empty the canister into the disposable bag as soon as you finish vacuuming, then tie a knot in the bag and bring it outside. Immediately dumping it will ensure that parasites in the vacuum are disposed of properly.
Can You Vacuum up Fleas?
Yes, it's a great way to eliminate fleas immediately. It's also an essential first step before a treatment company arrives. Physically removing as many fleas as possible with a powerful vacuum will allow the treatment to work better. This is true because there will be fewer fleas for the poison to kill.
Can You Vacuum Fleas Out of a Carpet?
Yes, you can vacuum fleas out of a carpet. However, if the larvae are deeply embedded in a rug, the vacuum might not have enough power to suck them up. With this in mind, if you have carpet, then it's a good idea to use a professional treatment company.
Can a Dyson Vacuum up Fleas?
Yes, a Dyson can vacuum up fleas. However, following the steps we listed above is vital to use a bagless vacuum for bed bugs. It's essential to empty the canister and seal up the vacuum after each use.
Can Fleas Survive in Vacuum Cleaners?
Yes, they can survive in a vacuum cleaner, but larvae and pupa are the ones that will survive the longest. However, the suction force will probably cause many of them to die.
Additionally, there is always a chance that a few fleas will survive the vacuum cleaner. Fleas pupae can live for months waiting for a trigger to go by. Movement is something that triggers the adult flea to emerge from the pupae. Adult fleas will likely try to find their way out because they'll need a blood meal to survive.
Final Thoughts on the Best Vacuum Cleaner for Fleas
Final thoughts: Fleas are a growing problem worldwide, and due to their long life cycle, they can be challenging to eliminate. In this post, we've looked at some of the best vacuum cleaners for fleas on the market today.
Additionally, these vacuums offer features that can help you quickly eliminate large clumps of flea dirt or physically remove isolated ones. They can also reduce insecticide use in badly infested sites that may otherwise have to be treated repeatedly.
If you're struggling with a flea infestation, one of these vacuums could be just what's necessary to get the job done.
---
You Might Also Find Useful Information in These Articles Too
What is the best bed bug vacuum? A guide for how to get rid of bed bugs by vacuuming.
Do Fleas Fly? Learn how fleas move around.
What are the best steamers for bed bugs, and how to use them?
---