A cockroach proof container is a must if you live in a metropolitan area where roaches roam through buildings. However, you can't totally eliminate cockroaches from your home if your building has an issue. But having a cockroach proof storage container can help reduce the number of pests getting into your food.
Eliminating some of the resources that roaches need to survive will help control them. So what do roaches eat anyway? Well, roaches eat a wide variety of things, including carbohydrates, feces, soap, meat, veggies, and much more. They can survive on the smallest food sources, so having the right storage container is essential. Did you know that roaches can even eat bed bugs? 😬😅
There are a variety of different containers available to store food and other items that attract cockroaches. Here are some of the best bug-proof containers to choose from:
Cockroach Proof Containers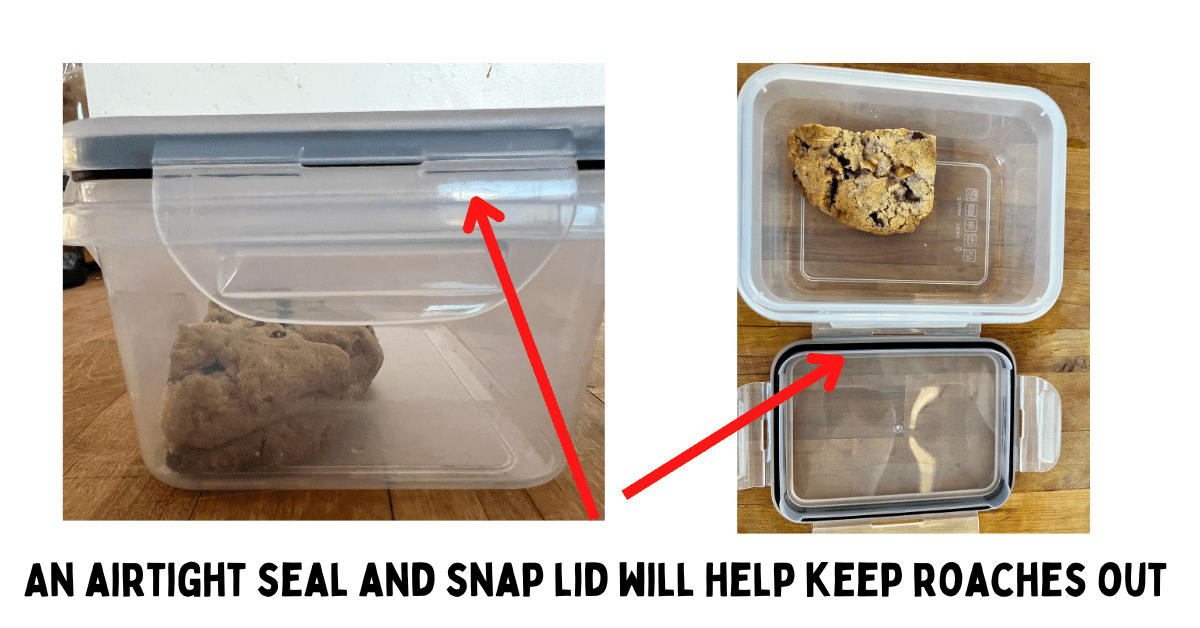 No matter what container you choose, it's essential always to ensure the air-tight rubber gasket is in working order. Sometimes these rings degrade, which allows gaps to form and roaches to enter.
If you have a roach infestation, it's wise to place all air-tight containers in the refrigerator. This extra step will allow you to bait and treat your home for roaches while your food is safe and secure.
Plastic Containers
Plastic containers can come in different sizes and shapes, making them ideal for storing food items. These are an excellent choice as long as they are air-tight and impenetrable by roaches. Even if you are keeping something simple like rice, it's imperative to use one of the best rice storage containers so pests won't lay eggs in your rice.
Glass Containers
Glass is also an excellent choice for cockroach proof containers, as it doesn't provide any opening for roaches to enter. Plus, cockroaches cannot chew through the glass. They are also dishwasher-safe and easy to clean, making them an excellent option for storing food. Ensure you get a few of the best air-tight glass containers for flour and sugar. With roaches, it doesn't matter if it's dry flour or rice; they can get into and eat everything.
Metal Containers
Metal containers are another excellent choice for keeping your food safe from cockroaches. They are air-tight, meaning no roach can get into the container, and they're also easy to clean.
You can double-check your metal container to ensure it's air and water-tight. Just fill it with water and see if it leaks when you turn it upside down. If your metal container leaks, then there is a hole that is small enough for a roach to squeeze through.
Vacuum Sealed Bags – Excellent Cockroach Proof Containers
These bags are another excellent choice for storing food items susceptible to cockroaches. They are better than just storing your food in Ziploc bags because they won't accidentally pop open or degrade, like other storage bags.
The vacuum-packing ensures that pests stay out and the food stays fresh inside the bag. If you have flour beetles all over your house, then using a Food Saver is a great way to prevent them from infesting your food.
Years ago, my friend lived in LA, and her apartment complex had a bad roach problem. The only thing that kept her food safe from roaches was vacuum-sealing everything with a Food Saver. A machine like the Food Saver is a lifesaver if you have a severe roach problem in your building. Then for extra protection, place the sealed bags into the fridge.
Can Roaches Eat Through Plastic?
Yes, roaches can eat through thin plastic, especially if it's a bag that's been reused multiple times. If you have a roach problem, your best bet is to put everything into one of our recommended cockroach-proof containers above.
While we are all sleeping, roaches go out scavenging for food at nighttime. They are omnivores and will eat whatever they can find. Pro Tip: If you use a vacuum-sealed bag, you can place your sealed item into a glass or metal roach-proof container for double the protection.
Can You Eat Food That A Cockroach Has Been On?
You should not eat food that a cockroach has been on if you can avoid it. Wash all of your produce, people!!! 😅😬 Did you know that many food items have had roaches crawling on them – (at the store)?
It's essential to wash all produce that comes from a store. Many times in the grocery store, roaches crawl through the food. Recently I read an article about this person who opened a bag of lettuce from Lidls, and a live cockroach crawled out.
Can Roaches Get in the Refridgerator?
Yes, there are a few ways that roaches can get in a refrigerator. I personally saw bugs in a fridge when I visited New Orleans 10 years ago. I was staying with some friends who ran an artist collective, and they had a severe roach infestation. When I opened the refrigerator, to my horror, I saw several roaches scurrying away.
Ways Roaches Can Get Into A Fridge:
You have a roach infestation, and they are crawling on the door and gasket. So when you open the fridge, one can easily creep in.
If you buy something from the store with roaches or eggs on it, you can place the insect into your fridge by accident.
If you use a cardboard box to store something inside the fridge, roaches can crawl and get trapped inside.
Finally, if your refrigerator is not sealed correctly, or has any gaps or cracks around it, then roaches could quickly get in that way.
It's essential to check your fridge for signs of cockroaches and take measures such as using a cockroach proof container to prevent them from entering in the future. Also, regularly clean out your refrigerator and vacuum any crevices or cracks that could provide an entryway for roaches. Please pay special attention to the rubber gaskets on the fridge; vacuum and sanitize them to prevent roach eggs from hatching.
Final Thoughts for What Are the Best Cockroach Proof Containers?
By investing in a cockroach proof container, you can be sure that your food items will be safe and secure from pests. They can also help save you money in the long run by preventing food spoilage due to an infestation of roaches. With various options available, choosing the correct container can help keep your home safe and clean.