Yes, you can still get bed bugs with a mattress cover. Although mattress covers can provide a measure of protection against bed bugs, the truth is that it's still possible to get them.
Since bed bugs can hide out anywhere close to their blood meal, not just on a mattress, the cover doesn't prevent them. It's important to know that mattress covers do not keep all bed bugs from entering or leaving their hiding places.
That being said, mattress covers can help reduce the chances of your mattress becoming infested. The encasement blocks the bed bugs (on the mattress) access to a blood meal – so remember their usefulness!
Another essential feature is that they will help save your mattress if you ever bring home a bed bug. The bed bug cover will prevent the bugs from living on the creases of your mattress.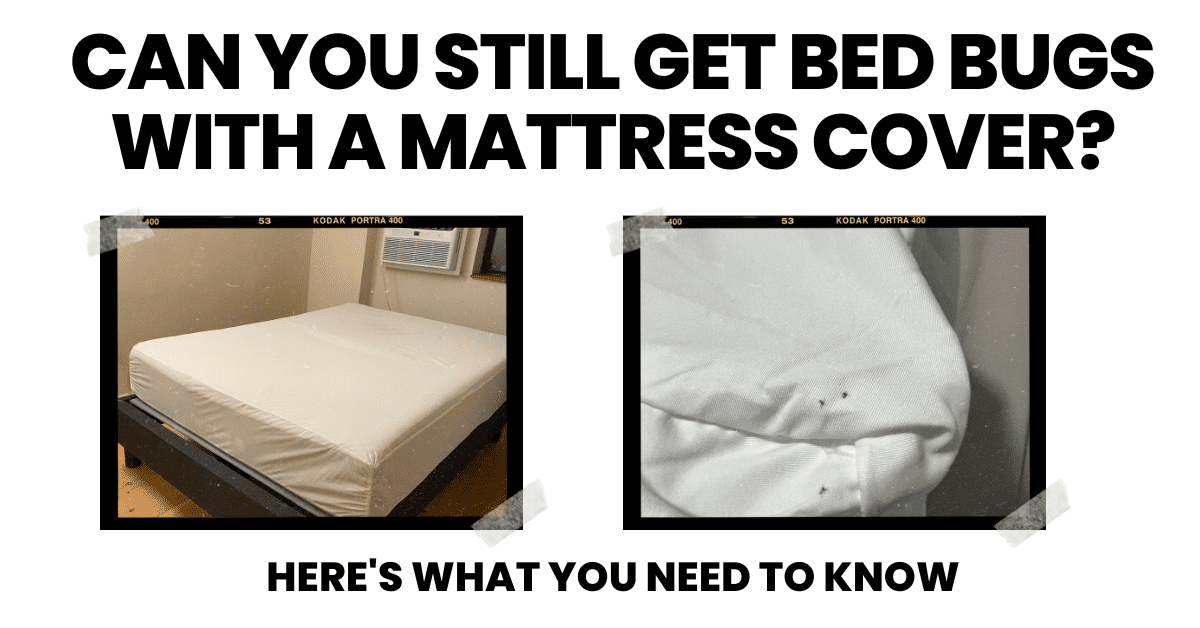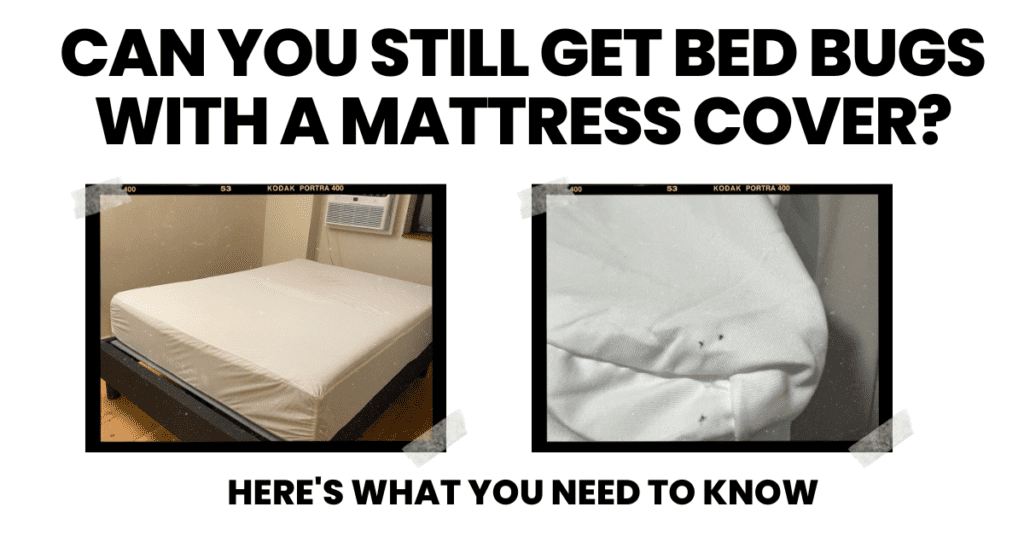 How Do Bed Bug Covers Work?
A bed bug cover zips around your mattress and box spring. Depending on if you are using it as part of the treatment process or part of the prevention process will determine how it works.
So, if you're wondering how a mattress cover protects you from bed bugs, you are in the right place. More importantly, first check out "can you wash a bed bug cover?" before removing yours.
Can you still get bed bugs with a mattress cover? Unfortunately, the answer is yes, you can. There is no 100% effective way to prevent bed bugs. Our clients often ask us, "can bed bugs get inside memory foam?" While they cant borrow into the foam, they can live on the outside. This is why a mattress cover works to save your memory foam bed.
Covers Work for Bed Bug Prevention
If you are using it as part of the prevention process, the encasement will zip around your mattress and box spring, preventing bed bugs from living in and on them. They are an excellent tool for helping to minimize hiding spots.
However, they do not prevent bed bugs from getting to your bed. If you get bed bugs and have covers on, the bugs will live outside the surface (see the photo of the fecal droppings on the outside of the encasement below) on your bed frame or anywhere else around your bed. But the stark white encasements will help you see the bugs and the bed bug poop quicker.
Disposing of Your Mattress
To dispose of your mattress, box spring, or bed frame, you'll want to wrap them in plastic. Since bed bugs don't go through plastic mattress covers, they are imperative to use to help stop the spread.
Covers Work for Bed Bug Treatment
When you use covers as part of a comprehensive, holistic treatment plan, they will help reduce the number of bed bugs in the environment. We suggest you first treat the mattress and put the encasement on after completing two treatments.
Reducing the number of bed bugs with a cover will allow the treatment to be more effective against the bed bugs left in the environment. Like bed bugs can't bite through clothes, they also can't bite through certified bedbug-proof covers.
Is There Such a Thing as a Mattress Cover to Kill Bed Bugs?
The Active Guard Mattress Liner is the only mattress cover product that can kill bed bugs. The company (Allergy Technologies) says they treat/embed the Active Guard Mattress Liners with Permethrin.
The Permethrin pesticide kills bed bugs within 72 hours and offers up to 2 years of protection. These bed bug-killing covers are helpful in college dorms, shelters, or other communal living places.
The company suggests that you place it on the box spring or mattress. Then place a fitted mattress pad over it, so your skin is not directly touching it.
Take note that some of the links found on this site are affiliate links. Additionally, Doctor Sniffs is a participant in Amazon's Associate's Program; an affiliate advertising program created to generate income for us (at no cost to you) by connecting our link with affiliated sites. All procured earnings go towards funding our annual scholarship program!
What is an Active Guard Mattress Liner?
The Active Guard Mattress Liner is a mattress cover embedded with the pesticide Permethrin. Permethrin can kill bed bugs and other pests, like dust mites and fleas. It works by bonding to the fabric fibers of the mattress cover, killing any bug that comes in contact with it.
What's the Best Mattress Cover for Bed Bugs?
Our favorite bed bug-proof mattress cover is the Hospitology bed bug encasement. The reason is that it's not the most expensive, and the lab tested it for bed bugs. Their tests confirmed that bed bugs could not penetrate the fabric or zipper.
Can Bed Bugs Bite Through Mattress Encasements?
A bed bug mattress cover will stop bed bugs on the mattress from biting you. Bed bugs do not have chewing mouthparts, so they cannot bite through encasements.
However is important to keep in mind that bed bugs will live on our bed frame, headboard, furniture, and more. So the bed bugs on the mattress can't bite through the encasement, but more than likely, there will be other bed bugs in the area that will bite you.
How to Put a Mattress Cover On?
You'll want to stand the mattress up from head to toe (see photo), then slide the mattress cover over the top and zip the sides.
Do You Need a Bed Bug Cover for the Box Spring?
Yes, the box spring is more important to cover than the mattress. It's where many bugs hide and breed, so you must protect it and the bed.
Furthermore, when you cover the box spring, you'll be helping to minimize many of these hiding spots. It's because you'll be able to see them easier against the stark white color of the encasement. It makes it easier to find common bed bug evidence, like bed bug shells, droppings, and baby bed bugs.
More Tips for Preventing Bed Bugs From Rehoming Themselves With You
When you return home from trips, put all your clothing into a high-heat dryer.
Wash your bedding in the high-heat dryer at least twice a week. You may catch and wash away a bed bug issue in the early stages.
If your child goes to school, place their backpack and jacket into an airtight snap bin when they return home. You can keep this airtight bin in your entryway.
Do a thorough visual inspection of your mattress and box spring monthly. You may catch an early-stage bed bug issue by taking this extra step.
Final Thoughts for Can You Still Get Bed Bugs With A Mattress Cover?
Bed bugs are a real pain – quite literally. And while there's no surefire way to prevent them entirely, a mattress cover can help significantly reduce your chances of an infestation. If you think you have bedbugs, don't hesitate to call in a professional bedbug inspector to take a look. Feel free to contact us if you live in the NYC area. In the meantime, keep your home clean and clutter-free to make it as uninviting as possible for unwanted guests.